THE WORST PROM LOOKS YOU'VE EVER SEEN!
Remember when prom was considered a pivotal point that we all aspired to reach? Cut to adulthood and prom seems nothing short of embarrassing in retrospect. But don't you worry; there are plenty of people out there who had a more humiliating prom than you! Need proof? Keep reading to see 29 of the most ridiculous prom looks alive!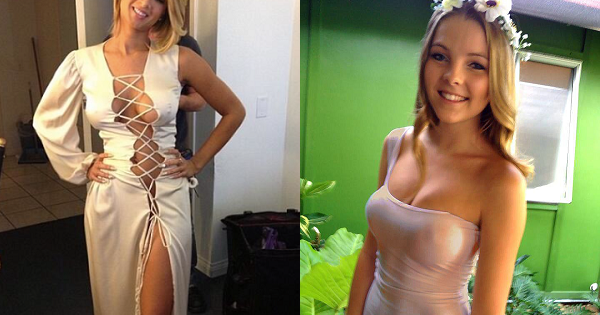 TEAM EDWARD VS TEAM JACOB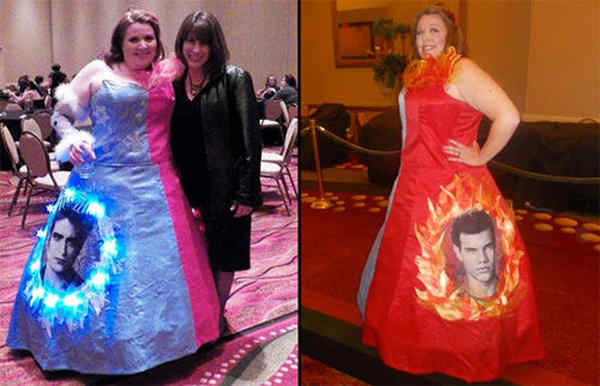 You have to admit, The Twilight Saga made us, especially teen girls, do a lot of crazy things. This girl right here cam to preach. Question is, Team Edward or Jacob?  What about Team Worst Dresses Ever?
SATANIC PROM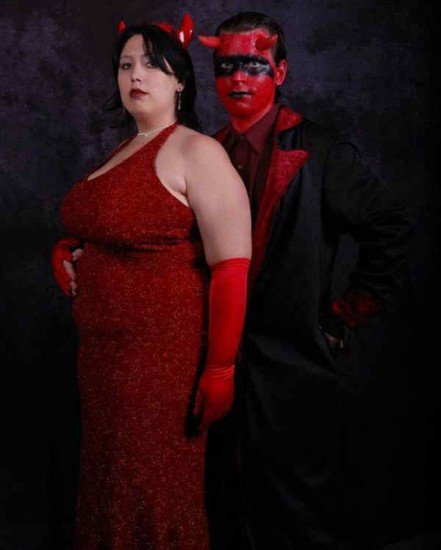 Remember that time Satan and his wife made an appearance at the high school prom? Seriously nobody knew? Well, here's a picture just in case you were curious. You're welcome!
OH, THE '80S…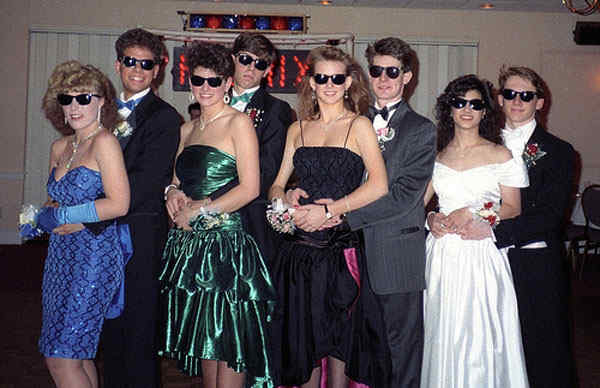 When wearing sunglasses indoors was all the rage. Wait a minute, it never was. Who are we kidding. Oh '80s how I wish I could forget you.
SHE MAD, BOY, SHE MAD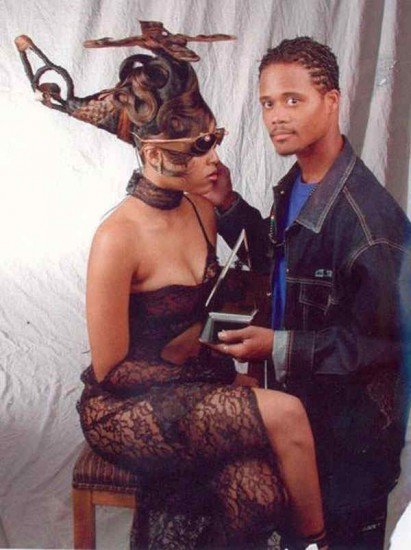 You want to know what that helicopter on her head is for? To escape from his potentially disastrous date planned, that's what.
AM TO PM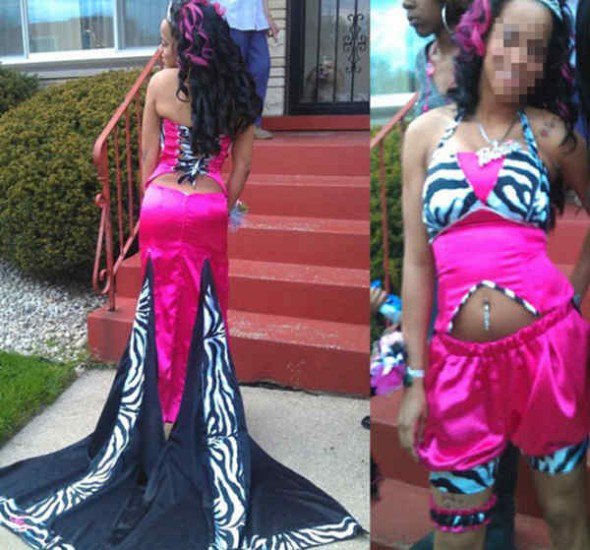 When you get so confident about getting laid and you decided to wear a 2 in 1 gown that can turn into a prom dress and pajamas/lingerie? What were you thinking though?
JUST ASSUMING NEITHER OF THEM WON PROM KING OR QUEEN.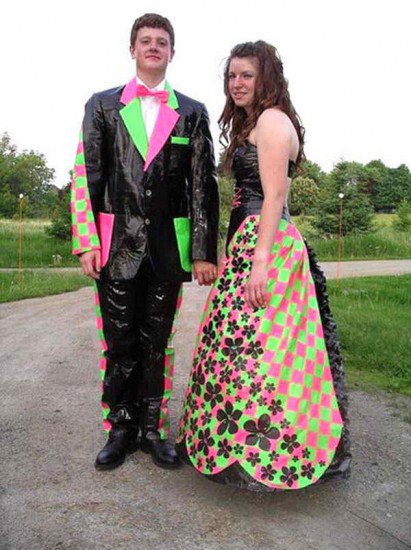 So much color, so much texture, so much pattern, so much tension. Did they win Prom King and Queen though? If they did: speed.
PHOTOBOMB!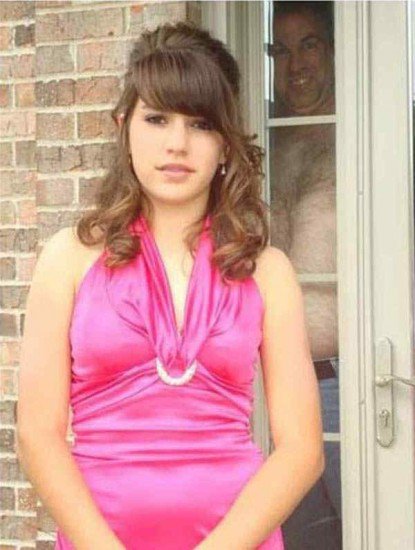 Thank you dad… Thank you so so much! Ugh! Kids these days!
UM, I CAN SEE YOUR…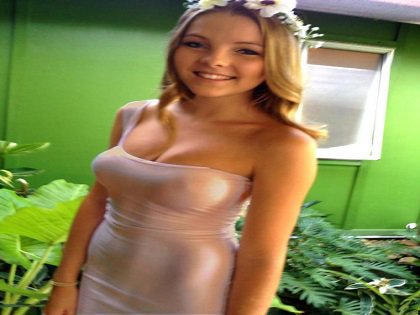 Wait i feel like you want us to, do you want us to? I'm sorry, Never mind… Carry on…
THIS IS ONLY SLIGHTLY TERRIFYING.
Which isn't the way you want someone to describe your prom photos.
SOMEDAY MY PRINCE WILL COME…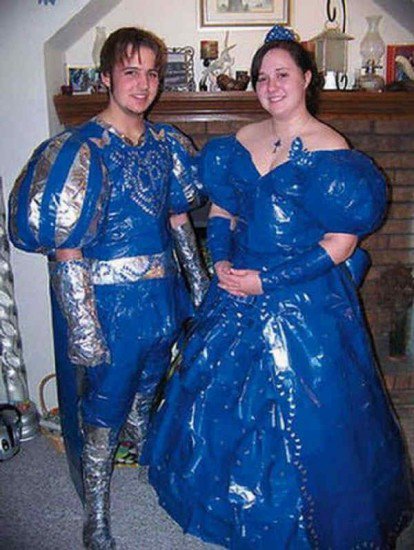 Hopefully he won't be dressed like that guy. Can't tell if they are wearing colored tin foils and blue duct tape or a combination of both. Hmm…
HOPING TO WINNIE-T??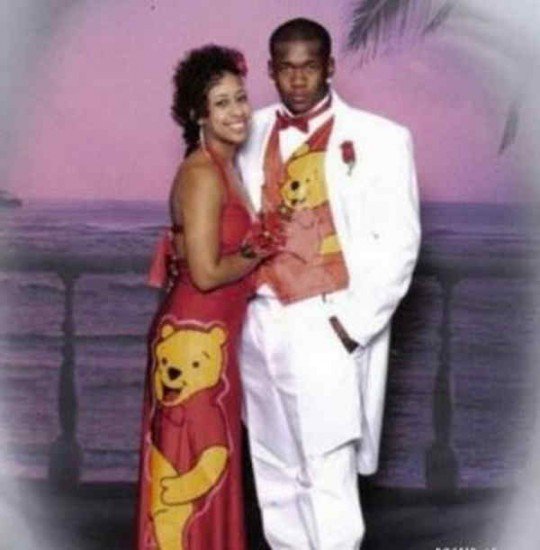 Wearing a matching Winnie The Pooh themed prom dress and suit is such a clever idea,said no one ever!  Don't let them get ideas anymore.
WE'LL GIVE HIM THIS…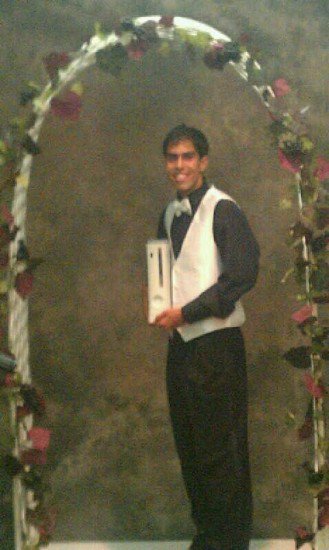 At least he brought a cheap date. On the plus side, he gets to do whatever he want, however he want. Wait, on second thought, that sounds wrong…
IS THERE NOT A DRESS CODE AT THIS PROM?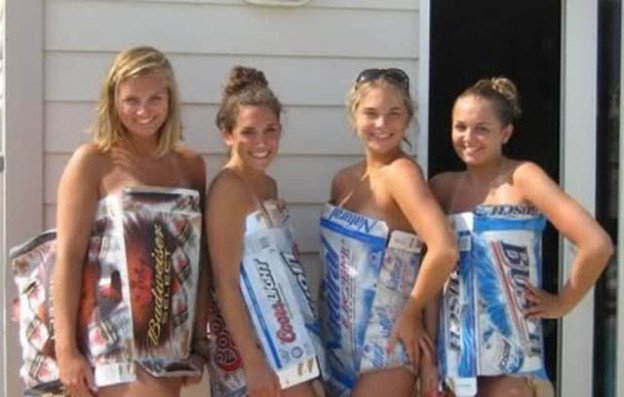 Can they even get in dressed like that?! I feel like they did…so, congrats???
HAIRY PROM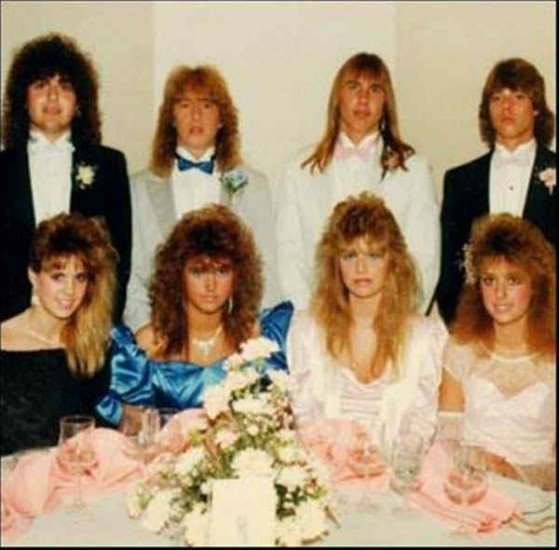 'We need some more hair wax, hair serum, hair oil, hairspray and some combs…Send help.'
OH…
Good morning! Good evening! And Good Night!
AGAIN WITH THE NO DRESS CODE THING?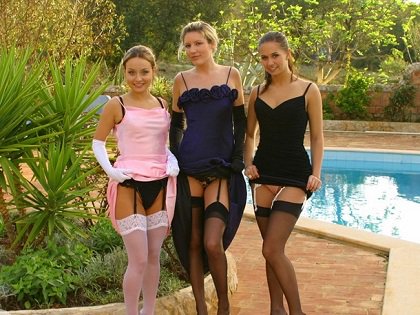 Really, schools?! Is this lingerie time or dress time? So much confusion… so much…
MERMAID CHIC?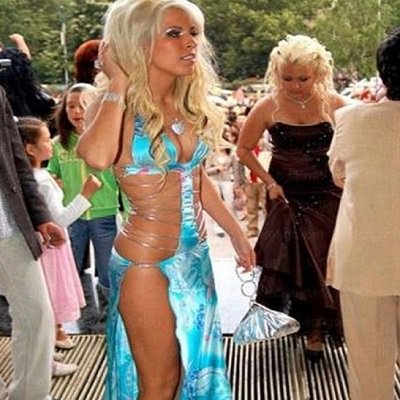 Or just a complete mess? Or classy pornstar? So confused, what look are you going for girl??
URSULA!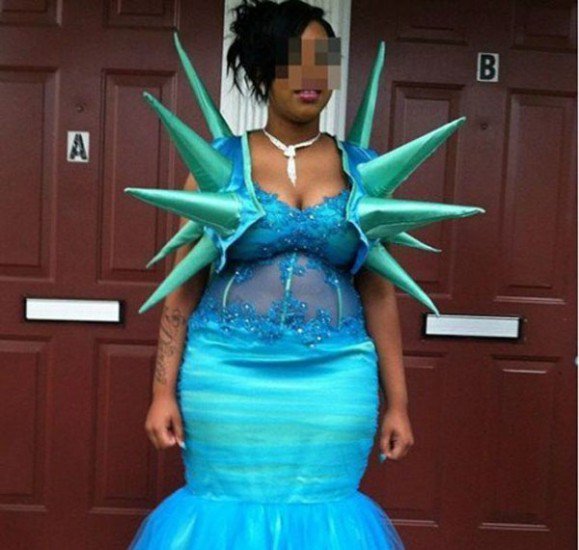 Remember the villain Ursula from Disney's The Little Mermaid? Yes, that's her in real life. Believe it! We assume this was to keep the boys away.
THIS IS DEFINITELY ONE FOR THE BOOKS.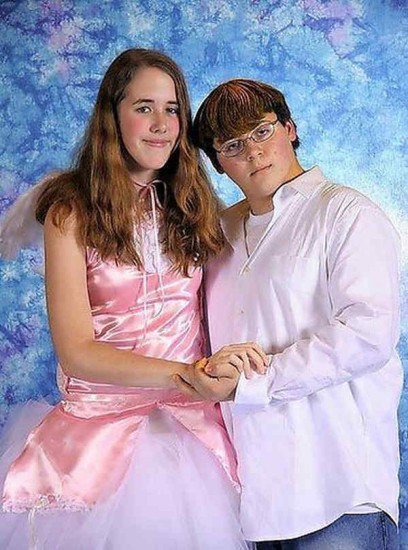 The book that is kept tucked away on the shelf for good. Never to be seen or touched ever again.
BLESS THE…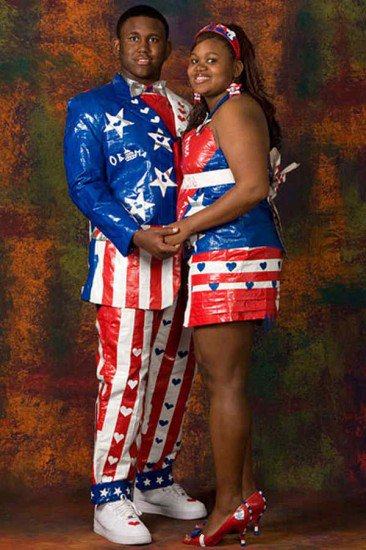 Scratch that. Please don't bless these outfits.
GIRL…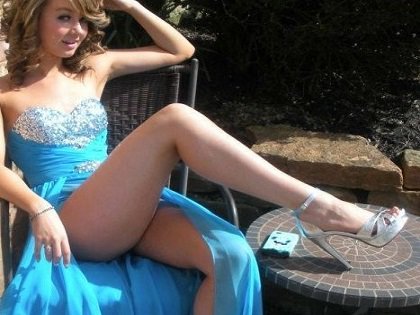 What on earth were you thinking?
EVERYONE KNOWS HIGH SCHOOL IS ALL ABOUT LABELING PEOPLE.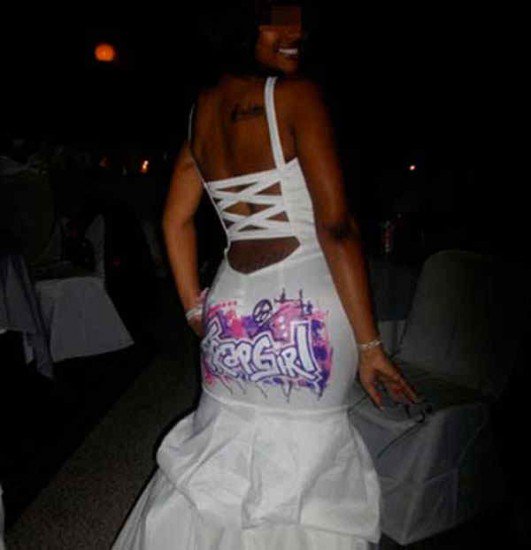 We just didn't know they were slapped on your behind.
WELP, THAT SUCKS…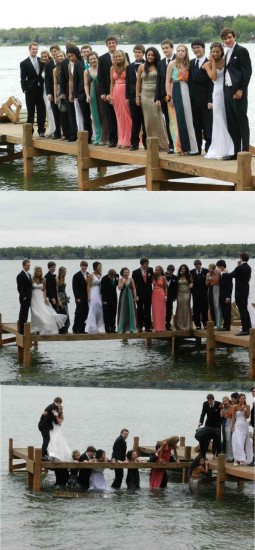 Night = Ruined.
WE'RE NOT SURE WHOSE HAIR IS WORSE.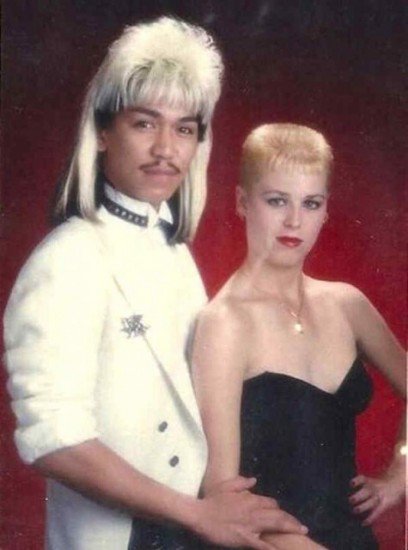 Okay, we just did some background checking. So it's definitely his. Yes. His hair is worse. Yes. Yes… *nods*
YES, THAT IS A STICK PATTERN ALL OVER THEIR PROM ATTIRE.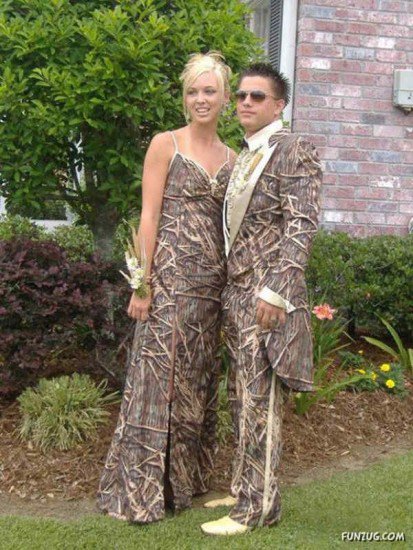 Sticks and stones may break their bones, but if they wear them? What happens? They look ridiculous. Which means they'll burn perfectly once they're done with them.
COULD A PROM PHOTO POSSIBLY BE ANY CREEPIER?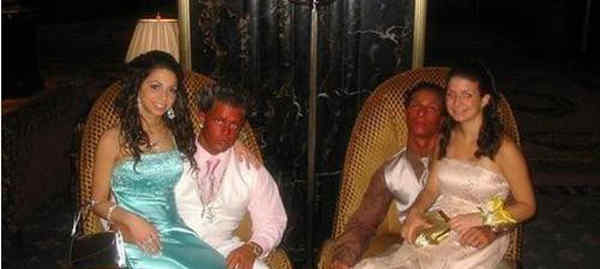 The answer is most definitely NO.
ANNA NICOLE SMITH, IS THAT YOU?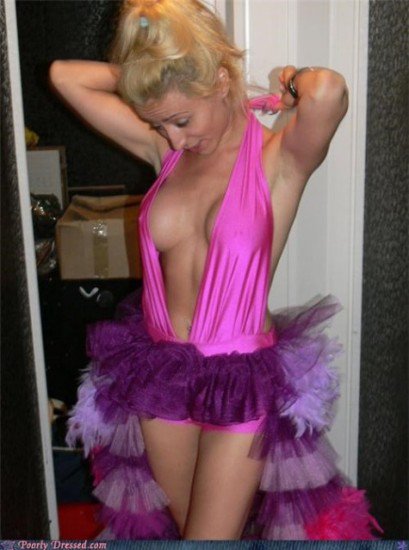 Nope, that's a teenager. A teenager? A teenager. A teenager? A TEENAGER!!
GIVE PEACE A CHANCE!
Or don't. That might actually be better. Think these prom photos are hilarious? SHARE them with your friends!
LET THE GIRLS BREATHE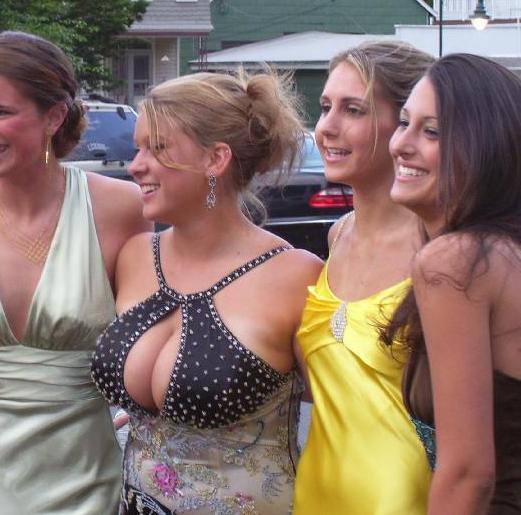 What high school even allows a dress like this and where do I sign up?
RIDE THE PONY
"Mom! Dad! My prom pictures finally came in!"
Make 'em proud!
TWO FACE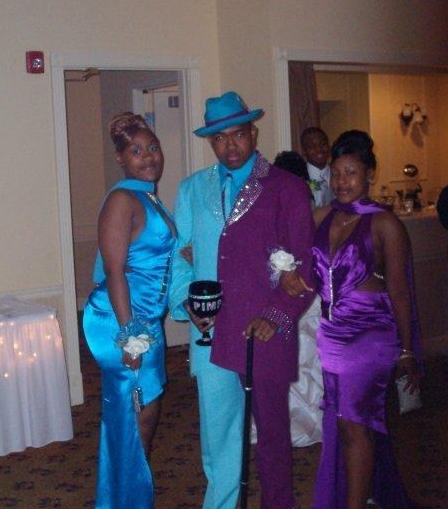 We don't think this is what they meant by "double dating"…
NOSTALGIA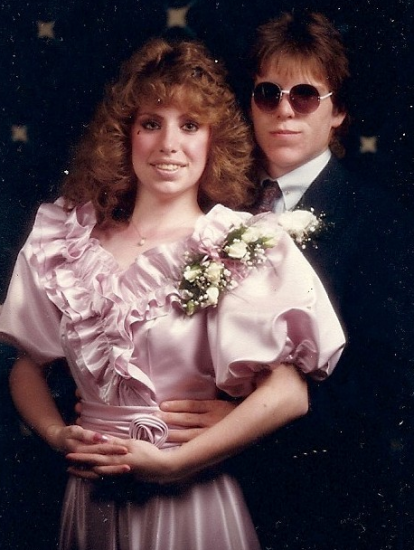 At least the dress is modest!
She looks beautiful; he could have ditched the shades!
THE HUNT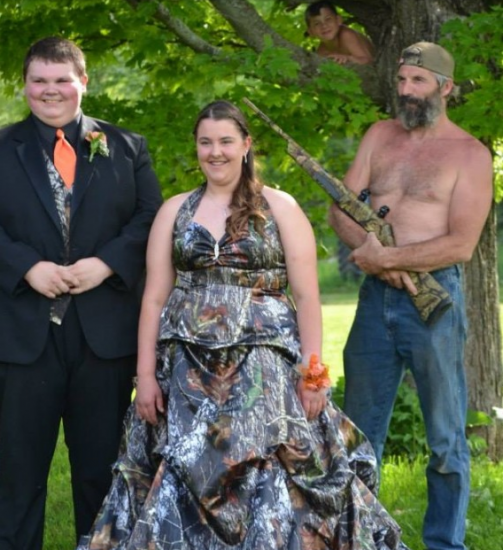 I don't think I'd be that calm if I were that girl's date and her dad and his gun were right behind me…
Peep the little brother in the tree!
MATCHY MATCHY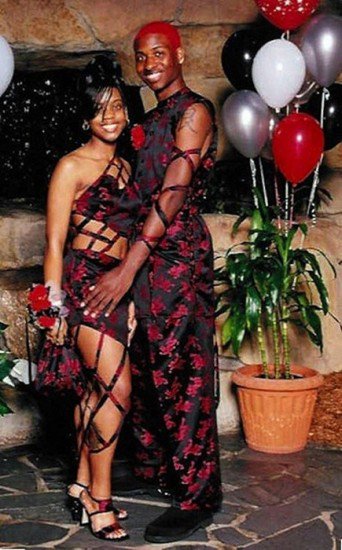 Are their outfits… connected?
THE GANG'S ALL HERE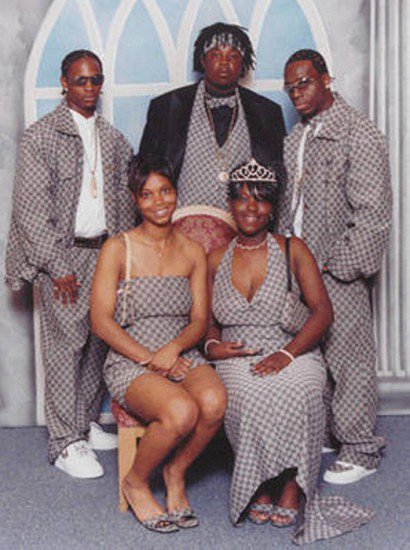 Forget what I said about that last couple matching too much…
GOING CULTURAL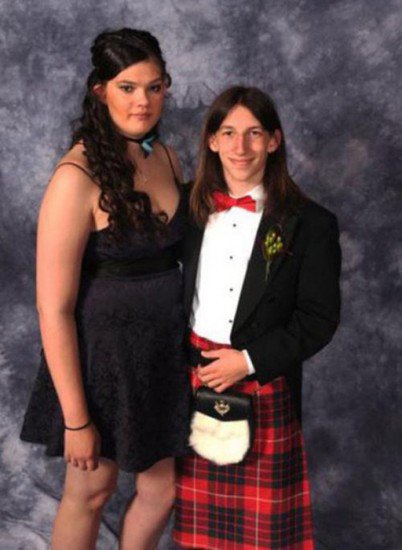 The real question is… what's underneath?
MATCHING HAIR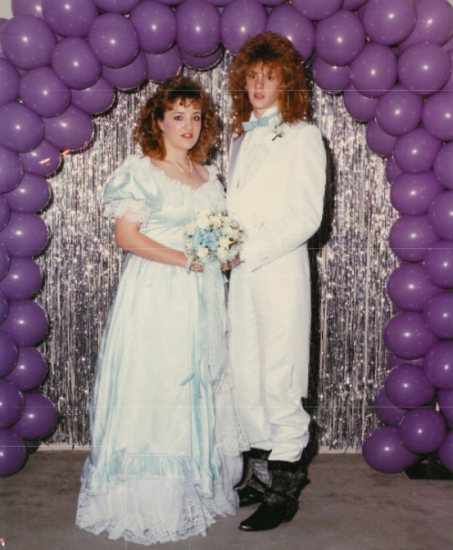 Did they have the same hairstylist?
BUT DAD!!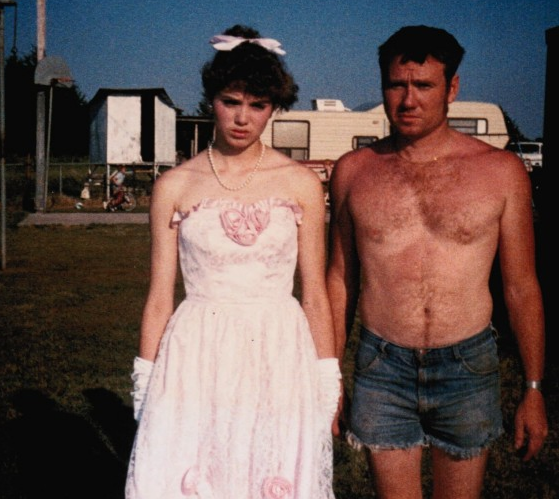 She probably hated that her dad made her take this picture, but at least she looked beautiful for prom!
BABY'S FIRST PROM!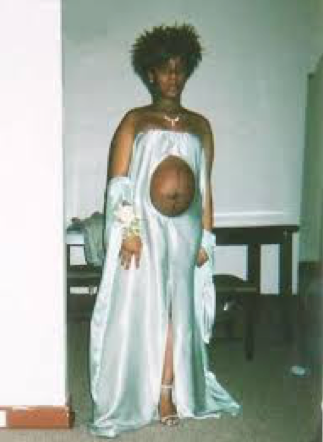 When your pregnancy is not going to stop you from having the best prom of your life. Also, really great of that dressmaker to be so accommodating…
~SAVE THE LAST DANCE~**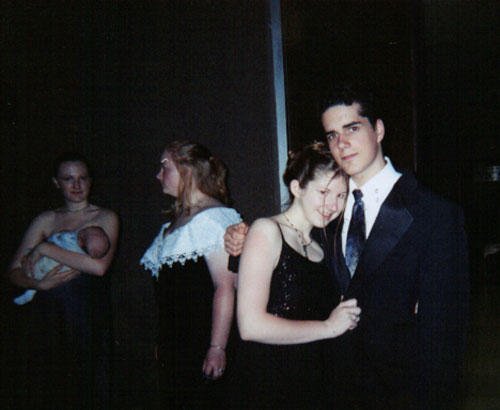 I wonder if the father is there, too…
MY LITTLE PONY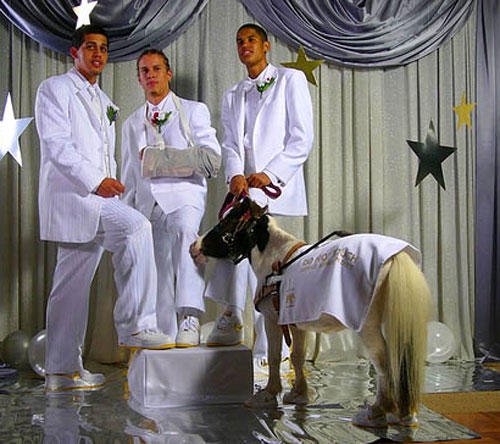 All aboard the Prom Pony Express, I guess… We've seen the promposals and the celebrity prom photos. Now it's time for the 17 Most Embarrassing Prom Photos Ever
ADAM AND EVE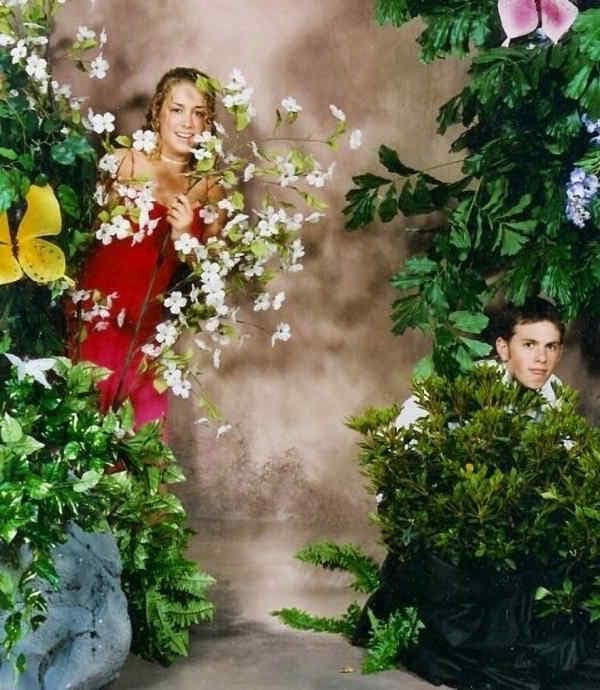 If prom had taken place in the Garden of Eden…
BUSTED!

Oh, yeah, he's totally looking there. Totally busted.
BORAT!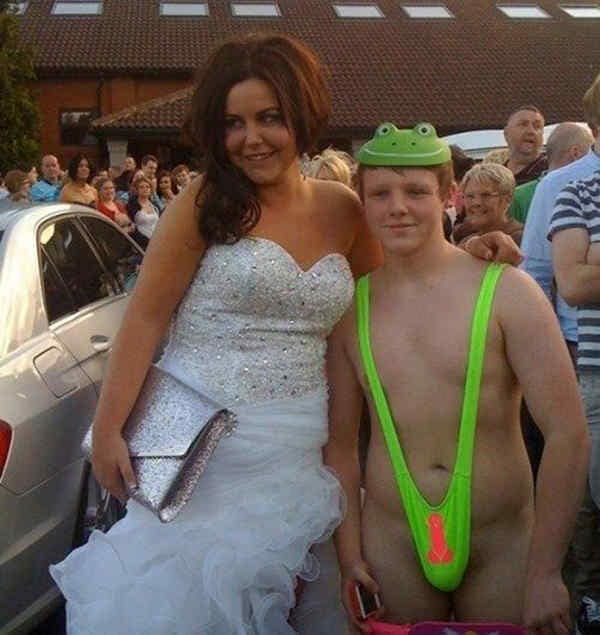 This definitely goes on the record as the most ridiculous and embarrassing prom outfit ever. EVER.
PLANNING AHEAD

At least these two are planning ahead unlike some of us, right?
CAN-CAN…CANNOT!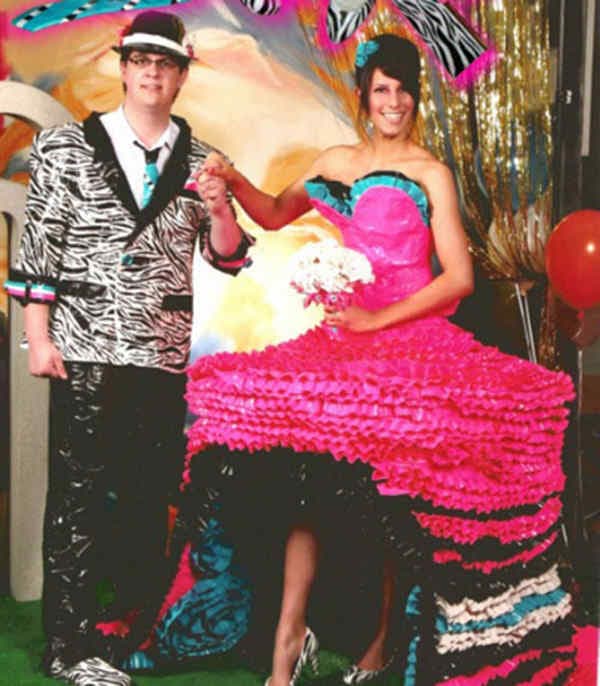 This dress would make it a little hard to slow dance, wouldn't it?
BLACK AND WHITE
There is nothing wrong with this photograph. Yet, there is something wrong with this photograph. It'a just one of those things, when you can't seem to point out the flaw, but you just know it's there.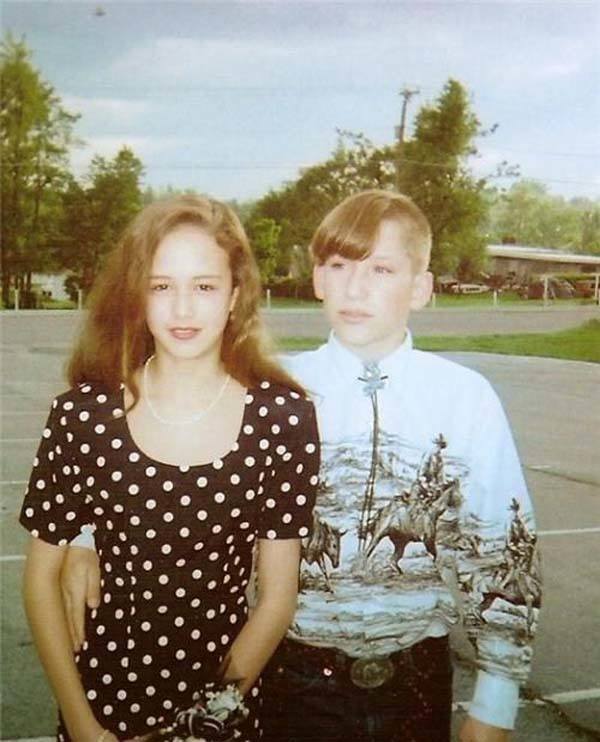 SATIN FOR BOTH
When you and your date decide to look like a power couple. You know, those that speak very little English but are everywhere.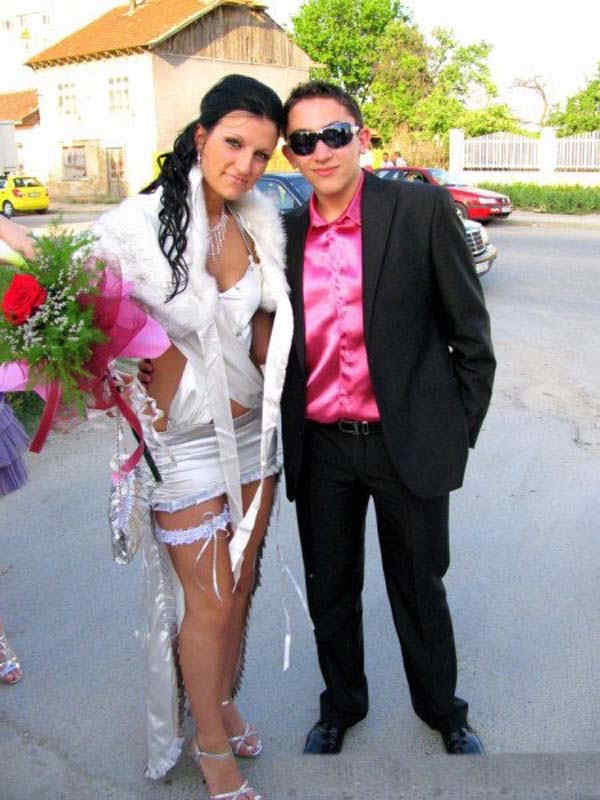 PURR-FECT DATE
They don't look so happy together in this picture. But we are pretty sure, they had a 'purrfect' date!